Live Fast Jeff Young: Vol. 12 - Get Out The Van (And Into The Tow Truck)
What's up Sorry Staters?

As things always seem to go with the crew here at Sorry State, we've kind of lost focus on producing regular blog content. We've had some serious changes at the store that have been taxing on our free time, including moving our entire warehouse into a new location. Not to mention, some of our bands have been out of town playing shows! Speaking of which, that's what we've decided to discuss this time around: touring.

In the few different groups I've been a part of over the years, a few of them have hopped in a van and hit the road, whether it be for over a month or just a weekend. I've never kept a genuine tour diary, and I don't intend to have this blog resemble a wax poetic a la Henry Rollins' "Get In The Van." Rather, I'm just going to give a couple brief tour stories. Firstly, I'll discuss my most recent tour experience, and then also an oldie for good measure. Both of these stories also happen to be van breakdown stories, which I'm sure many touring bands are familiar with. Here we go:


I'll start with a story that's not that crazy, but just a summary of what I've been up to lately. Most recently, my newest band Scarecrow, which the bossman Daniel also plays in, did a little trip to Philly, then Richmond, and then back home. This little weekend of shows revolved around the 10 Year Anniversary of Richmond's finest punk record shop, Vinyl Conflict. After a good amount of distance was covered traveling in the oven on wheels that is our drummer Usman's van, we broke down in Delaware 60 miles from our destination in Philly.

We ended up calling a tow truck that could fit all four of us and towed the van the rest of the way to Philly. The tow truck driver, who was from Pakistan, noticed our equipment in the van and asked us about music. He then proceeded to show us several videos of his brother, who plays in a fairly popular rock band in Pakistan. Honestly, the music wasn't that bad! We got the driver to drop our van off in front of the promoter's house we were staying at and then got an Uber to the house where the show was at. We unfortunately missed the first band Zorn, but got there right when Dark Thoughts started. It's kind of unbelievable that we made it!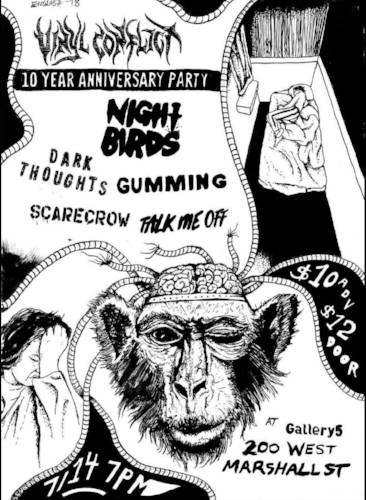 The gig was a benefit for a Philly venue called Cousin Danny's. After we got done playing, the promoter Jake took us to Danny's to drop off his cut. Danny was very inviting and showed us around. He generously gave us a 30-pack of PBR. Scarecrow and company headed back to Jake's house where we just sat on the porch drinking beer and eating Chinese food at 3am. It was a good time.

The next day, we managed to get the van fixed by mid-afternoon and booked it to Richmond. We arrived right after Talk Me Off finished and loaded right onto the stage. It was a bit sweat-inducing to immediately play when we walked into Gallery 5, but the gig was packed out and super fun. It was also cool to hang with the Dark Thoughts people two days in a row, very nice folks! Big thanks to Bobby for having us on!


---
Now for an oldie: The first tour I ever embarked on was with my first "serious" band, Stripmines. We traveled in the infamous Sorry State tour van that several other bands like Double Negative also used, which they continually had breakdowns and issues with. Stripmines went on tour with a band called Raw Nerves from Portland, and we were lucky in that the van ran smoothly the entire tour -- until we got to Pittsburgh.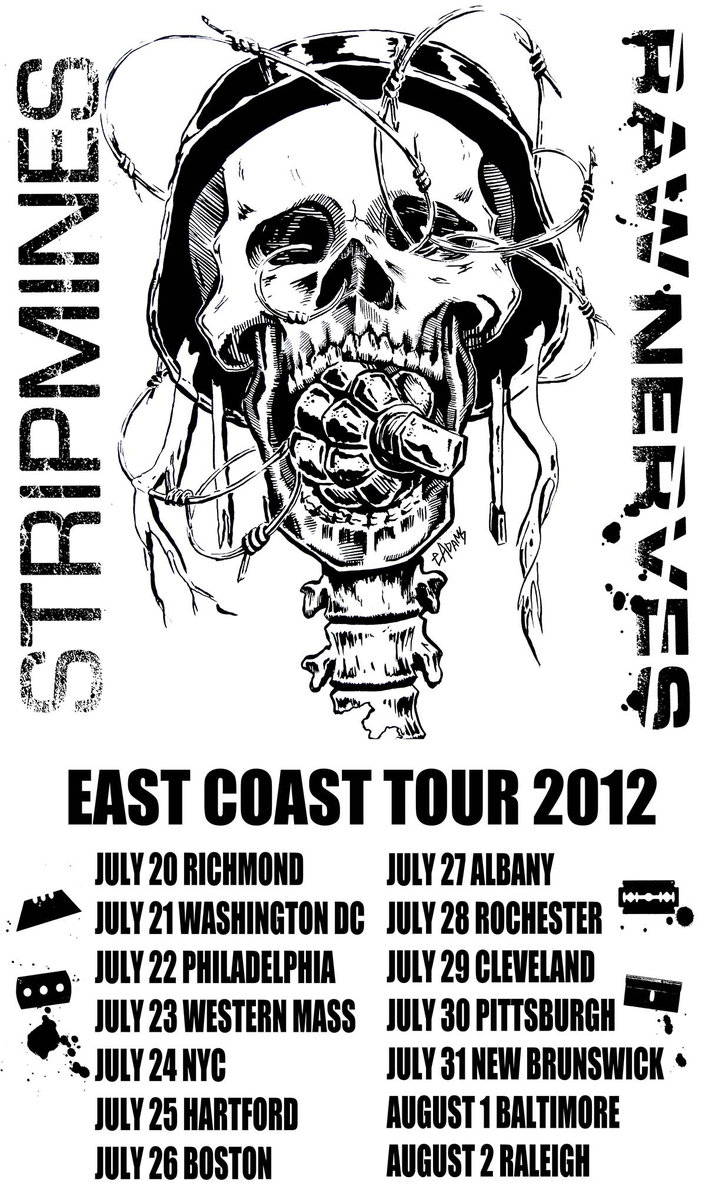 I'm not sure if it was the steep inclines of Pittsburgh's hilly highways, but as we were nearing the bottom of one street the van cut out and we careened the van to the side of the road. As we were stranded on the side of the road troubleshooting the issue with the van and concocting a plan of action, there was this guy that walked by. Now, you could say we were being mean-spirited if you want to, but when I say that this dude had whack style, it was like spotting a real-life character from the the Ali G Show. A unique specimen, he was a rather large fellow wearing what looked like JNCO shorts, a Hawaiian shirt with a wife beater underneath, and a black du-rag. He walked with elephant-like steps with a true sense of disregard. It was summer time, so I think he might've had an ice cream sandwich? Jury's out on that one. Needless to say, we laughed at his expense as he walked by.

If I remember correctly, I believe we saw a gas station down the street and decided to push the van in neutral a few blocks to reach the gas station. After reaching our destination, everyone went inside to get drinks and snacks. The recurring theme with Ira, who played drums in Stripmines, was that he was broke the entire tour. He gave us warning that he had no money, so he bought large bag of groceries which he promptly left in Richmond -- our first show of tour. Most of us were waiting outside when we see cop cars pull up and before we know it, Ira is walking out of the gas station with handcuffs on! Right behind him walks out Mr. Du Rag. It turns out that this dude we were giggling about was an undercover cop and busted Ira trying to steal a Clif Bar. Seriously, with the amount of cop cars that pulled up to this gas station, you would think that Ira held up the clerk at gun point. Thankfully, he got off with a ticket. Stripmines ended this tour playing our final show back home in Raleigh. At this show, Matt delivered the classic line: "So we were in Pittsburgh, and Ira bought a $200 Clif Bar."
---
Alright, now that tour's over, lets talk about music listening from the safety of our cozy indoor turntables. Honestly, it's been so long since my last blog that I could talk about tons of records, but I'll just stick with some recent hot slabs:
Permission: Drawing Breath Through a Hole in the Ground 12"
- Check out my other "Record of the Week" review for this record
here.

Extended Hell: Call Of The Void 7"- 2nd 7" from this NY-based hardcore/d-beat band. This thing is just brutal. Uncompromisingly aggressive from start to finish, Extended Hell clearly has no desire to allow the listener any relief from punishment. The riff-o-rama Totalitär-style influence is present here, but I also feel like this band never plays at rapid speeds. Instead, EH bludgeons you while sitting comfortably in the pocket. While this EP is a suitable length to not be totally exhausting, you'll still probably be dripping with sweat after listening.
Suck Lords: New Lords Music 7"
- Check out my other "Record of the Week" review from a couple weeks back
here.

Adderall: 20mg cassette- Had to give a little love to this new EP from Asheville, NC's Adderall. There are some bands that seem to be far-removed from the relevant punk stream for fear of getting wet, either that or they're unaware of their retro sensibilities. Adderall, however, are one of those bands who seem plugged in, where when you listen to them you think, "Now this sounds like punk in 2018." Musically, Adderall is like a rampage, launching into songs that are inviting while still chaotic and powerful. The snarling vocals really elevate the disorderly conduct of the band. It's easy to imagine this band being explosive live. If some current hardcore bands are dangerous enough to feel like a light buzz, Adderall are a black-out.
---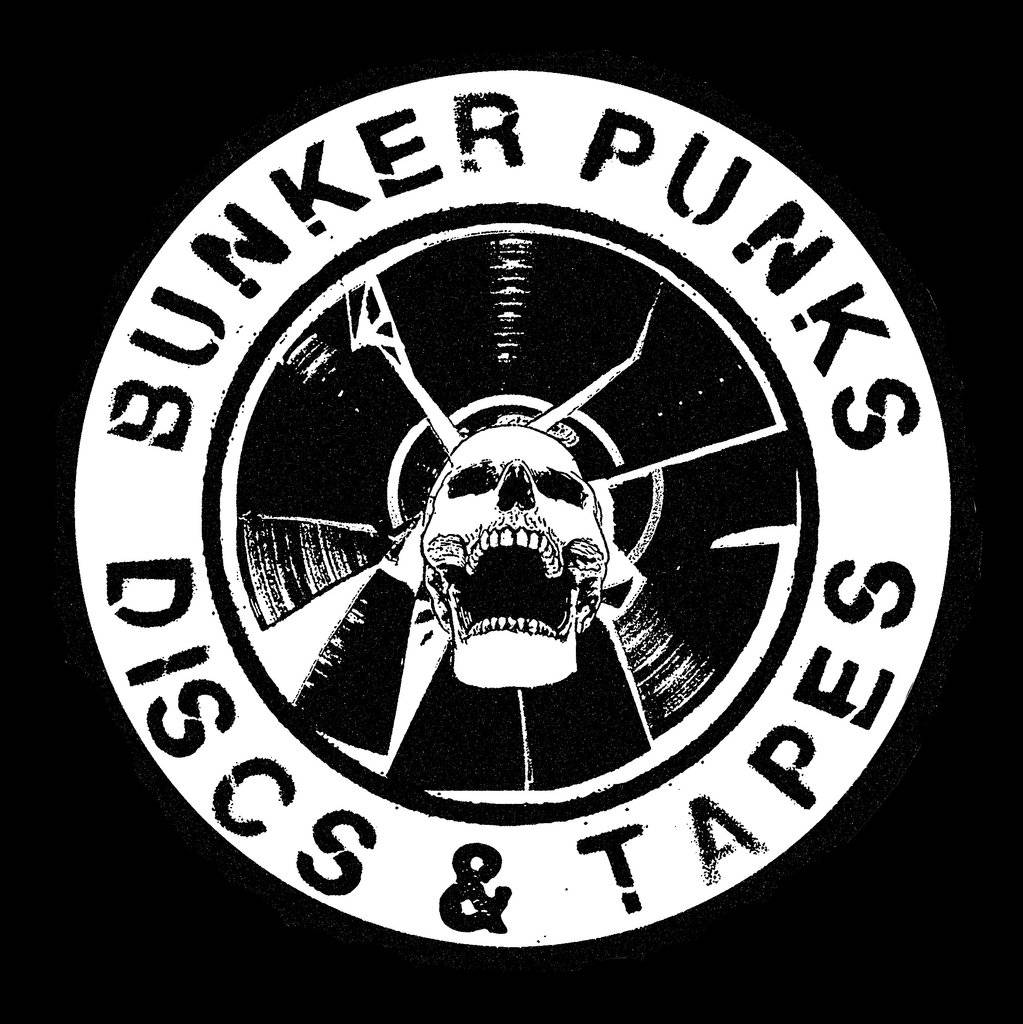 On the personal front, I have big announcement for this blog post: I'm starting a label! Usman, whom I play with in Skemäta and Scarecrow, and I are embarking on this venture together. We've been booking punk gigs at our little location The Bunker for a while now and have discussed doing releases together. We decided to stick with the familiar namesake and dub our label Bunker Punks Discs & Tapes. Sticking with the Scarecrow theme in this post, our first release under the Bunker Punks moniker is the Scarecrow demo tape. Grab that and some other distro records at our webstore link below:
Bunker Punks Discs & Tapes

I think that'll do for this round. As always, thanks for reading!

'Til next time,
-Jef Lep