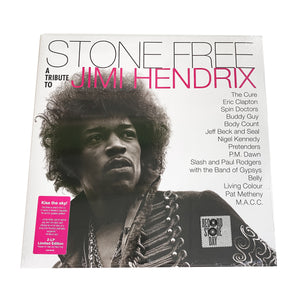 Black/clear vinyl for Record Store Day 2020.


Classic Jimi Hendrix Tribute from the 90's.

Tracks:

The Cure - "Purple Haze"

Eric Clapton - "Stone Free"

Spin Doctors - "Spanish Castle Magic"

Buddy Guy - "Red House"

Body Count - "Hey Joe"

Seal - "Manic Depression (with Jeff Beck)"

Jimi Hendrix Tribute - "Fire"

The Pretenders - "Bold as Love"

P.M. Dawn - "You Got Me Floatin'"

Slash, Paul Rodgers & Band of Gypsys - "I Don't Live Today"

Belly - "Are You Experienced?"

Living Colour - "Crosstown Traffic"

Pat Metheny - "Third Stone from the Sun"

M.A.C.C - "Hey Baby (Land of the New Rising Sun)"