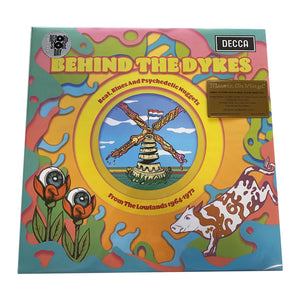 Behind The Dykes is a double LP compilation presenting the best bands and artists the Dutch had to offer in the period 1964-1972. The Netherlands was the first non-English speaking country to storm the Billboard Hot 100 with a string of hit singles from bands such as Shocking Blue, Focus, George Baker Selection, Golden Earring, and Tee-Set. This set presents the bands that followed closely behind, with singles and albums that internationally have become highly sought-after records. Some bands with a rich discography, others with no more than one or two singles under their belt. Original singles of many of these tracks are currently offered and/or sold for hundreds of Euros on Discogs, and many original pressings were so limited at the time of release that they are impossible to find.
The album is released under the Decca brand with the classic logos and labels. The psychedelic artwork was specially designed for this RSD release. The full color printed inner sleeves contain liner notes about each individual band with the original single artwork, while the inside of the gatefold sleeve contains photos of the artists featured on this album.
Behind The Dykes - Beat, Blues And Psychedelic Nuggets From The Lowlands 1964 - 1972 is available as a limited edition of 3,000 individually numbered copies on yellow (LP1) and turquoise (LP2) vinyl.