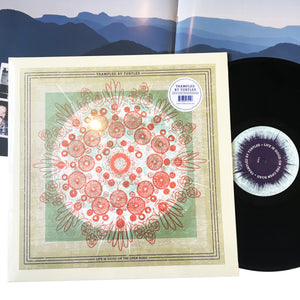 After 15 years of traveling together in close quarters and commanding festival and club stages around the country, the six musicians who make up Trampled by Turtles – Dave Simonett, Tim Saxhaug, Dave Carroll, Erik Berry, Ryan Young, and Eamonn McLain – went nearly a year without all being in the same room. Simonett, the band's lead singer and songwriter, released a critically acclaimed and highly personal album, Furnace, with his band Dead Man Winter. Other members kept busy with their own side projects in the Twin Cities and their hometown of Duluth, MN, allowing new musical ideas to grow.
Tracking for their new album, Life is Good on the Open Road, was completed in just six days at Pachyderm Studio in Cannon Falls, MN and mixed the following week. The band produced the album themselves with the help of Pachyderm's house engineer, Nick Tveitbakk, recording everything live to tape. Life is Good on the Open Road is the sound of freedom washing over the group like a sunrise, a new day rising. When discussing the album, both Simonett and Berry toyed with the phrase "return to form," suggesting that it captures something pure and essential about the Trampled by Turtles sound. "Tim said something kind of interesting – he said, 'This is the most Trampled by Turtles record we've ever made,'" says Berry. "He's right."
The band weaves their instruments together like a seamless tapestry, laying down a bed that seems to float underneath Simonett's expressive voice. Each song seems to tell its own story, from tales of nights gone wrong to love that's been lost and dreams that need chasing, and the group shifts in unison from tender ballads to barn burning hair-raisers, sometimes in the same song. Simonett's lyrics, which have grown ever sharper over the years, occasionally rise up to shoot an arrow directly through the heart. Although no songs directly address the band's time apart, there are metaphors that speak to the experience of putting Trampled by Turtles to bed and waking it back up again.