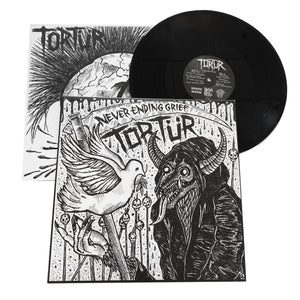 LA D-beat maniacs return with ten trax of hardcore , distorted, d-beat / raw punk so fucking brutal your speakers will blow & turntables will fucking fry!!!
The message of an anti authoritarian government and realities of war are there with on onslaught of d-beat mayhem behind brutal screams of anger!
This is now their 7th release after a killer split LP release with HELLISH VIEW on RAWMANTIC DISASTERS!! FFO: DISCHARGE, DISCLOSE, BETOE, DISASTER!


Our take: LA's Tortür has been kicking around for a few years now, releasing a demo (later released as a 12" on Farewell Records), a couple 7"s, and a split with Hellish View (an appropriate pairing!). While we've carried some of those releases, I never gave them a proper listen, and I'm kicking myself for that after checking out Never Ending Grief. This record is one of the most ripping things I've heard in recent memory. Tortür is a d-beat band, but their music is blindingly fast, and while the riffs tend to be short and straightforward, they pack their songs with intricate changes that make it feel like the music is attacking you from several directions at once. The closest thing I can compare it to is a d-beat version of the Koro EP; just like the Koro EP, when I listen to Never Ending Grief my pulse quickens and I can't sit still or do anything else until the record is over. Just play the first track, "What Now?," and if it doesn't hook you by the end of that insane drum break at the beginning, then you and I have very different definitions of what makes for great hardcore.