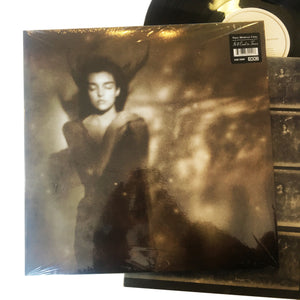 The inspiration of Ivo Watts-Russell, This Mortal Coil emerged in the early-80s when the post-punk scene was splintering in exciting new ways and Ivo's  then-fledgling record label 4AD was in the thick of it all. This Mortal Coil were not a band per se, never performing live, rather a collaboration of musicians, with both Ivo and co-producer John Fryer the only constants while the cast rotated.
Experimentation was rife over three albums, they produced a heady mix of original works, musical links and reinterpretations of impeccably curated songs; helping to introduce a new audience to the talents of a previous generation, including Big Star, Tim Buckley, Roy Harper, Spirit, Gene Clark, Dino Valenti, Rain Parade, Emmylou Harris, Syd Barrett and Colin Newman. Intriguing, almost amorphous, the ethereal qualities of This Mortal Coilwere further enhanced by the stunning artwork that ran throughout the project – with the mysterious figure of Pallas Citroën adorning each album cover, making her the project's de facto face.
Debut album, It'll End In Tears (1984) forged the template for This Mortal Coil, whilst also helping to crystallize 4AD's emerging signature sound and shining a light on some of their stable with Cocteau Twins, Colourbox and Dead Can Dance all involved (the line-up was completed by Howard Devoto of Buzzcocks/Magazine fame and Cindytalk's Gordon Sharp). An important record of its time, Pitchfork recently named it one of the best dream-pop albums ever, stating that it "catalyzed 4AD's ascendance from the stilted poetics of goth rock to the kings of gauzy transcendence."
Using remasters made from the original analogue studio tapes by the late, great John Dent at Loud Mastering, this 180g vinyl reissue will come housed in a beautiful, hand finished and high-gloss gatefold sleeve with re-imagined artwork by Ivo Watts-Russell and Vaughan Oliver, 4AD's long-time visual partner.
Features:
• Heavyweight 180g LP made with high-quality European vinyl
• First time on vinyl in the US
• Remastered from the original master tapes by band and 4AD founder Ivo Watts-Russell
• Graphics from the original assets by Ivo & 4AD with beautiful gatefold jacket and printed inner-sleeve