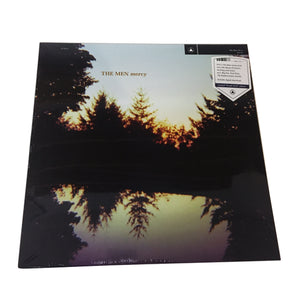 New York band The Men have always been genre-morphic and unpredictable, but on their eighth album Mercy they have truly done something new as a band. For the first time since forming, they have now created three straight records with the same lineup, and the result is a sound that feels developed and continuous despite running the gamut of mood, in true Men fashion. Having this lineup stability has allowed the band to deepen and finesse the sounds they were exploring on 2017's Drift and produce tracks that have a unique and distinct voice. Mercy was recorded live at Serious Business studio to 2" tape with Travis Harrison. The band did minimal overdubs, contributing to the urgent feel of the recording. The album is simply the sound of a band that has a deep and unjaded passion for songwriting and creation, working at the peak of their collaborative connection.
Founding guitarist and vocalist Nick Chiericozzi described the band's process by way of an anecdote borrowed from Jeff Daniels about his time working with Robert Altman: "Daniels said, 'Altman will tell you, 'Now walk through that doorway,' but what he doesn't tell you is that he's got three people walking through the door from the other direction.' Doesn't that sound like a Men record? We've got 'Children All Over the World' saying hello to something like 'Fallin' Thru'. Mercy has a place next to Drift and it's now a distant neighbor to New Moon, Devil Music and the others. It's a wholly contained universe that shares the ash, the birth and the memory; the things motion takes with you after bumping into someone. We hope you enjoy the record and what it brings."
Mercy takes the listener on a cinematic journey throughout its seven tracks, beginning with the soothing but lonesome country rock opener "Cool Water." This track, like many on the record, feels timeless, illustrating the band's ability to write songs you are convinced you've heard before on the B-side of your favorite record from the '70s. You are then pulled into its longest song, the 10-and-a-half minute psychedelic blues rock opus of "Wading in Dirty Water." The band explore some new territory on Mercy, and they also revisit the Suicide-style sound they have been working on for a while through Drift and also with one of their side projects Dream Police, resulting in the highlight "Children All Over the World," a song that could stand next to any classic rock hit but with The Men's unique artistic savvy. It wouldn't be a contemporary Men record without a total fuzzed-out stomper a la their Open Your Heart-era sound, and this record's offering, "In the Breeze," shows the band's complete command of this urgent and pulverizing style.