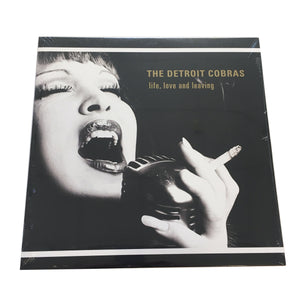 Continuing our commitment to shining a celebratory light on classic and influential music from Detroit, Third Man Records is honored to re-introduce the world to the undeniable importance of the Detroit Cobras.Here is one of two reissues of classic Detroit Cobras debut records — Mink, Rat or Rabbit and Life, Love and Leaving — on glorious black vinyl.

The band has experienced many roster revisions over the years, especially when it comes to their touring configuration, but the perfectly irreverent Rachel Nagy on vocals and Mary Ramirez, one of the greatest guitarists to ever come out of Detroit, have been near constants and the creative force behind these two records. The first of the two releases also include noted Detroit photographer Steve Shaw (The Fondas) on guitar, the prolific Jeff Meier (Rocket 455, Nathaniel Mayer) on bass, and the pure drum work by Damian Lang (Two Star Tabernacle) making for a line-up of pure perfection.

Originally released in 2001, the Detroit Cobras' Life, Love and Leaving is the group's best-known effort, coming at a time when bands like the White Stripes and Dirtbombs were also releasing seminal albums that started picking up recognition outside of their collective hometown. Hitting hard with songs by soul heavyweights like Solomon Burke ("Stupidity"), Mary Wells ("Bye Bye Baby"), Otis Redding ("Shout Bamalama"), the inimitable vocals of Rachel Nagy would no-doubt be a template from which folks like Amy Winehouse would work from years later. A landmark collection of covers.