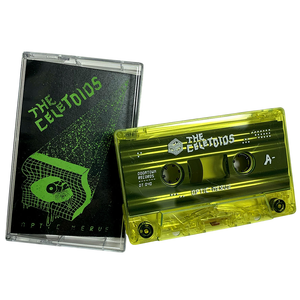 After debut "Pupal Stage" tape that was re-released on vinyl back in early 2018, The Celetoids brings you four new conceptual songs!

The concept of "Optic Nerve" deals with fear of using modern technology for ethically unacceptable goals through emotional manipulation intertwined with conspiracy theories that are not completely denied. We are at the peak of modern digital age and monitoring user behavior on social network is not something uncommon and this often includes serving selective information to influence the subconscious of selected or random targets. The concept also deals with dimensional gaps that occur under certain conditions, in certain places, and altered states of the human mind that we associate with psychoactive drugs, insomnia, or schizophrenia but maybe there's something else there. To cut to the chase, some conspiracy theories that have some basis may not be so far fetched from reality the more you think about it!

The name "Optic Nerve" comes from mass surveillance project run by British signals intelligence agency GCHQ with help from the US National Security Agency focused on monitoring random Yahoo webcam users without any justified suspicion or reason. The idea was to collect random still images and use them for experiments in facial recognition. The whole operation was perceived as a conspiracy theory/hoax by the media 'till the inside man Snowden leaked all the data to the public and is still prosecuted by the US authorities.

As for the music, there's some progress when it comes to catchiness and song structures but The Celetoids still balance their thing with influences from first wave of good ol' british punk, Killed by Death/Bloodstains compilations style riffs and garage punk. You can hear some outsider weirdo american revival punk vibe here and there's Spits momentum there, but "Optic Nerve" stands out on its own and needs no more comparisons to other bands.

Recorded by Eke Buba's Drsko Krađa at their shared practice room space. Mixed and mastered by Jasmin Dasović
Pro-dubbed tapes are limited to 300 copies. Artwork by The Celetoids' very own Dirt Sleeze.