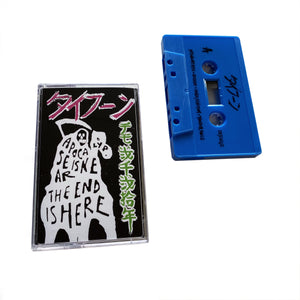 US press of the fantastic demo tape from German punks Taifun. Ripping hardcore with Burning Sprits passion, rock and roll licks, and punk as fuck energy. From members of Burial and Bombenalarm.
Pro dubbed cassette with special US release art and blue tape shell.


Our take: Taifun comes from Germany and released this demo in 2020, but if you played it for me blind, I don't think I could pick it out of a lineup of Japanese bands released on Blood Sucker or HG Fact in the late 90s or 00s. Perhaps unsurprisingly, given Taifun has at least one member of Burial (who did a pretty great Burning Spirits take of their own back in the aughts), they have this sound on lock. While the galloping beats and glass-gargling vocals that we all love in Japanese hardcore are very much in effect here, the sound is more rocked out and slicker than, say, Bastard or Death Side, instead reminding me of Paintbox, Forward's first few records, or Rocky and the Sweden's early stuff. I feel like this sound is out of fashion nowadays as people want stuff that's more raging, but if you liked the Detractors tape that Desolate released a while back, this is a total no-brainer. And for those of us who still ride for this 90s iteration of the Japanese hardcore sound, this is as comforting as a sherpa blanket. Also of note, while the tape's A side is all hardcore, side B is a 10-minute noise piece, and as 10-minute noise pieces go I thought it was pretty interesting.