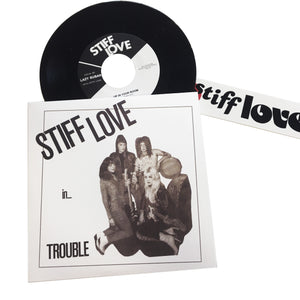 Glued jackets with textured covers and matte finish, Stiff Love sticker, new Neck Chop sticker done by Durango 65 and DL code

Nevermind the weird phrasing: Olympia's Stiff Love is a fuckin' beautiful instance punk rock incestuation. Like, if there was some kind of omniscient deity responsible for eating grapes, chuckin' down lightning bolts, and ensuring that certain groups of people got into rooms together and started up bands, they definitely would've had to pull some strings to get the stars to align over Washington that fateful day. Sampling members from Lysol, Lowest Priority, Beta Boys, Very Mental and The Vitamens -- the first three of which are Washington-based, and all four phenomenal punk acts of their own distinct, varying flavors --, Stiff Love is the aftershock following years of rambunctious reverberations spawned by their past musical efforts. Liberating themselves from the arbitrary limitations of straight-forward punk, Stiff Love has channeled decades' worth of vintage garage rock into a shameless, glittery stint of glam-like moxie, complete with a presentation worthy of posters plastered all over a bedroom wall. This four-piece has curated a sound that's distinctly their own, emanating sheer confidence and gusto through heavy-handed, toe-tap-inducing rhythms, spring-loaded guitar licks reminiscent of surf-esque sensibilities, crunchy, scuzzed-out riffage imbued with a metallic potency, and a kickass lead capable of inciting a fuckin' riot. "Trouble" could not have been a better follow-up to the group's original debut cassette of 2017, honing their once-coarse tones to an edge fit for a smiley face-embossed switchblade. Stiff Love is the exact type of band you wish you had back when you were in middle school. Because, well, maybe then you wouldn't have turned out to be such a mess.

Our take: Debut 7" from this new band out of Olympia, Washington. My band No Love played with them on their recent tour and they were great live, but this 7" is even better. Stylistically, Stiff Love have a really cool vibe… there are elements of classic punk, 60s garage, and power-pop, but it skews very far toward the punk, particularly with the fast and loose playing and the raw production on this 7". I'm reminded a lot of Nikki & the Corvettes' best tracks, but Stiff Love are even punker than that reference would indicate. The songs themselves are super dense with a ton going on… each one generally has a great main riff, a cool lead that comes in over top of the main riff at some point (they're a twin-guitar attack BTW), and catchy vocals that are more of a rhythmic yelp than melodic singing. Despite the fact that there's so much going on the songs never feel overworked, which again probably comes at least partially from the loose playing style (which is totally drenched with swagger) and the rough production. Stiff Love are such great songwriters and musicians that I can easily imagine them taking the path of a band like the Donnas or the Hives… with more "professional" production this is a band that could get really, really big. Or they could just keep putting out records as good as Trouble and they'll develop their own rabid, cult-like audience. Or maybe they'll break up and these tunes will get comped on a future volume of Killed by Death and we old-timers will talk about how we remember when you could pick this thing up for six measly bucks. Highly recommended.