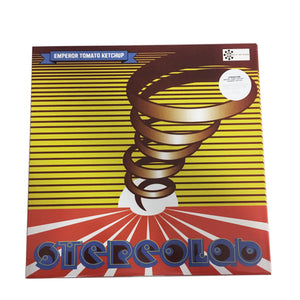 September 2019 sees the continuation of Stereolab's seven album reissue campaign when 1996's Emperor Tomato Ketchup, 1997's Dots and Loops and 1999's Cobra and Phases Group Play Voltage in the Milky Night are reissued, via Warp Records and Duophonic UHF Disks, as expanded and re-mastered editions on triple vinyl. Each album has been re-mastered from the original 1/2" tapes by Bo Kondren at Calyx Mastering and overseen by Tim Gane. Bonus material will include alternate takes, 4 track demos and unreleased mixes. These reissues follow 1993's Transient Random Noise-Bursts With Announcements and 1994's Mars Audiac Quintet which received Expanded Editions earlier in 2019.
Stereolab's fourth full-length, Emperor Tomato Ketchup, originally issued in 1996, marked the point where the band evolved from a purely underground phenomenon to an important pop group capable of selling albums while keeping their hipness and integrity intact. At the time of its release, it was simultaneously their most experimental and most accessible release, with the deliberate raw textures of earlier works replaced by a more polished vibe. The album was also their greatest success to date both commercially and critically, and remains a consensus favorite even now.
Continuing to mine the music of the '60s and early '70s, Stereolab employs Farfisas and Moogs, melodies from Bacharach and Hardy, soft-rock, bubblegum, dub and hip-hop sounds to augment their core influences of krautrock, punk, jazz and space rock. Odd time-signatures and deft layering techniques are more crucial to the arrangements, and the grooves on tracks like "Metronomic Underground" and "Les Yper-Sound" add a level of funk to the mix, while the album also includes clear and catchy pop songs like "Cybele's Reverie" and "The Noise of Carpet." The LP brings many elements to the table, but Stereolab puts them all together into a coherent vision. It's hard to say if the album's greatest accomplishment is making pop music palatable to experimental listeners or introducing pop listeners to the group's experimental influences. Either way, it's one of the most enjoyable and important albums of the '90s.