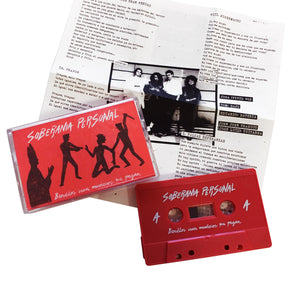 Back in the days of the military junta, four young punks in Buenos Aires formed Soberanía Personal and recorded 11 songs for a tape which will later be considered a masterpiece of Argentinian hardcore punk.
The sound of the band was equally influenced by classic Spanish punk and raw early 80s South American hardcore punk bands inspired by Discharge. Frustrated and angry female vocals, powerful lyrics, masterfully executed guitar riffs and catchy bass lines had me at first listen, so I'm really glad to put this tape out as the fourth release on Outsider Classics.
The tape is limited to 125 copies with risographed covers. Each copy includes a two-sided folded lyric sheet.