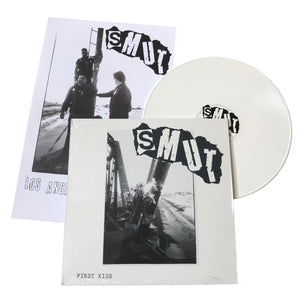 You ever spent a Saturday night dripping with sweat and lathered up for wanton destruction? Ready to rage at the drip of a drop, looking for action. Well that is SMUT in a nutshell. They're like that ALL the time. Lucky for us, they scraped together a couple hours to record the music. A late night drug fueled session to be sure. "First Kiss" feels like if Darby Crash could sing on time and his backing band was "Record Collectors..." era POISON IDEA without the stadium anthem tendencies. In other words pure snarling punk that is nastier than an unchecked venereal disease in the summer swelter.
500 copies on white vinyl housed in a 24pt reverse board jacket with poster and download card included. Tattoos by Alan Dubbs. Art by Sal Hernandez. Recorded by Mike Kriebel.


Our take: This record from LA's Smut is a throwback to a time when hardcore didn't mean athletic shoes and breakdowns… it meant PUNK AS FUCK. This one is all big, catchy punk riffs and vocals drowning in snot backed by a rhythm section with the power and subtlety of a jackhammer. I'm reminded of peak-era FUs and Gang Green or west coast equivalents like the Fuck-Ups or the Lewd… there's no pretense, no trying to be something that it's not, just punk rock played with a knife in hand, ready to lunge at any second. Grab this and that new Discovery 7", crack open a 40, and light some shit on fire.