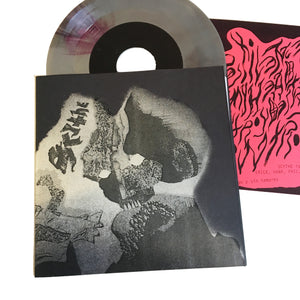 Scythe is a mixture of terrifying and eerie. That is how I would describe this 7". The guitars have an eerie but raw as fuck sound. The vocals are a terrifying and angry as the best of 80's Japan at the time of zouo, deadless muss, antiseptic, the mob, etc. The rest of the band is mutated with some early Mexican and Colombian punk elements that bring together some of the best of Asia and Latin America.

The record is an edition of 200, silver vinyl with hand made covers in silver spray and xerox print!!!!


Our take: After a standout demo, here's the debut vinyl from this California band and it does not disappoint. If you're a fan of creepy-sounding, metallic Japanese hardcore like G.I.S.M., Mobs, our Zouo (or newer bands in that vein like Blazing Eye) the sound will be familiar, particularly the growled vocals and the wobbly chorus effect on the guitar. However, Scythe don't sound like a modern interpretation of that style so much as a lost relic from that era. The record sounds warm, organic, and analog (or at least analog-ish… I'm not sure how they recorded it), and the lack of clarity only serves to heighten my interest. This feeling carries over to the cryptic and minimal visual aesthetic, which has me examining every square inch of the packaging to figure out what's going on. Spending time with this record reminds me of discovering records by the Misfits and Black Flag when I was a teenager, long before you could Google a band's name and instantly find their biography, discography, and other information. This music comes from another place, but I don't know where that place is or how I can get there. All I can do is listen closer and let myself get sucked into the band's world. This record feels real and immersive in a way that pulling up a bandcamp site and listening while you wash dishes or run on the treadmill just can't replicate. So kill the overheads, light some candles, cue this up and let it take you where it wants you to go.