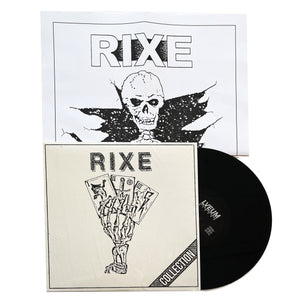 Collection neatly compiles RIXE's first 3 Eps on one album. All 12 cuts have been remastered for maximum volume. Rixe appeared from nowhere and went from strength to strength over the two years since the Debut EP Coup Et Blessures was released in February 2015. The EP was their calling card and harked back to the glory years of Bologna's finest Nabat mixed with the classic 80's French Oi! sound. It was instant and loved by all and went on to have six pressings. A year later came Les Nerf A Vif - another four tracker with extra bite and bile. Every track was perfectly recorded and produced. Lean with snarl and each track a nugget of anthemic Oi!. On third EP Bapteme Du Feu there was no let up in quality. Precision Oi! with a pop element that's built to be loved now and in 20 years. Joined together the 3 EPs make a perfect album and proof that why RIxe are Oi! royalty in 2017.

Comes with A2 poster by Matt Bellossi and artwork by Nicky Rat.

Our take: This pretty much does what it says on the tin, i.e. collects Rixe's previous 3 7" onto one slab of 12" vinyl. There's a new cover and a pretty sweet poster, but really the only question here is, "do Rixe's 3 EPs work together as a full-length album?" Well, yes they do! I guess everything has been remastered to keep the levels in line with one another and whatnot, and it all sounds great to me. If you already have the 3 7"s I can't see a ton of reason to pick this up, but if you're not really a 7" person then it's time to get on board with one of the very few modern oi! bands out there worth listening to.