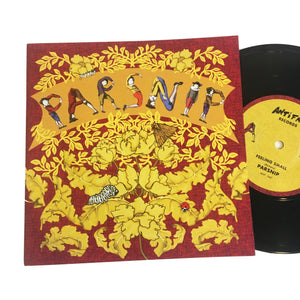 New single from your favourites PARSNIP!

A. Feeling Small
B. Winter

Roll up! Roll up! Here come Parsnip with their second 7", "FEELING SMALL b/w WINTER", released through the ever magnificent Anti Fade Records. A snappy little single, takes under five minutes to listen, but years in the making and worth keeping forever!

Following their debut 7" release on Anti Fade (S/T, November 2017), Parsnip have been as busy as ever playing jam packed shows around Australia, with the likes of King Gizzard, ORB, The Aints, The Babe Rainbow, Shonen Knife, Real Estate, RVG, Terry, Amyl and the Sniffers and many more.

Just listen to "FEELING SMALL" now and see why everyone goes nuts for the nips.


Our take: Second EP from this Australian band. With a minimally distorted guitar sound and broad melodies that remind me of children's music, Parsnip are on the edge of being twee, but their music has enough heft and grit to hold your interest even if you typically stay within punk's boundaries. The a-side is cheery and melodic while the b-side is for the punkers with its faster tempo and big crashing chords that remind me of the Boys or the Damned, though not as heavy. The mastering on this 7" is also loud and hot, which contributes to the aforementioned grit. If you like catchy, jangly punk like the Shop Assistants or the Vaselines I'd encourage you to check out Parsnip.