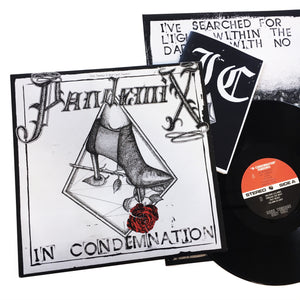 Pandemix is back with In Condemnation, a 10 song LP expanding on their political, peace-punk indebted hardcore canon. The band churns out unapologetic outsider anthems in the tradition of CRASS records bands, with flashes of the angular iconoclastic wit of Flux of Pink Indians or Poison Girls juxtaposed against the jarring and heavy guitar textures of Profane Existence style crust punk. It's the appropriate tone for Pandemix's incisive social commentary. On the album closer "Column of Light," they offer a thesis: "May every breath I ever draw be used in condemnation." Vocalist Shannon Thompson's breath finds well deserved targets at nearly every lyrical turn. In "Can't Assimilate" for example, she oscillates between a homophobic street harasser and a cop at a pride parade, finding no solace in any corner of the public sphere. 
The antagonists on In Condemnation are both political and personal. "It's all about a relationship to violence," she spits in "Synthetix." "If it's constant and random then you can't politicize it." This dismal sentiment clashes appropriately against a jagged bass line and harsh militaristic drum lines. In "Oblivion Lullabies," a catchy rager that barrels ahead at full throttle, she turns her focus inward. "There's something nameless inside me / Barren and burned / I can't believe / That I could be the only one / Who feels like a voyeur in her own life." A culture of constant performance and decentralized surveillance is critiqued not only for its usefulness to authoritarian figures but also for how it shapes the way we think about ourselves. 
On the soaring penultimate track, "Past Selves," we are offered the closest thing to optimism that Pandemix is willing to offer. Its melodramatic, goosebump inspiring riff sets the mood for an anthem of finding strength in oneself in the face of a degrading cultural landscape.  "Remain steadfastly human in the face of all this dehumanization," is the coping mantra Thompson offers as the record nears its end. Even at its most  uplifting, In Condemnation shines brightness only in contrast to the constant misery and violence of modern life.
Comes with a 12 x 12 poster, 24 page zine, and download code.