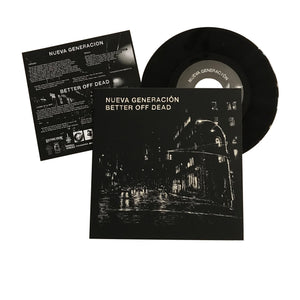 Split 7″ EP with NUEVA GENERACION (Murcia/Spain) and BETTER OFF DEAD (Angers,Paris/France). After a couple of EPs and their last LP, NUEVA GENERACION are coming up with two new songs. Musically they still play energetic straight-forward punkrock with some postpunk elements.
BETTER OFF DEAD released a few EPs, one LP and are now back with also two new songs on this record! They play powerful melodic/melancholy punk rock that is absolutely worth your full attention.
The record comes in a screen-printed folder!