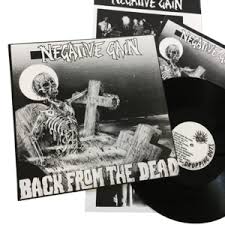 reissue ltd 300 OUT NOW ...

Killer thrash hardcore from Oakville,Ontario Canada . Fast and aggressive but with a dark edge at times. Classic stuff that was unfortunately never re-issued or released on CD.

Peter Warner - vocals
Grant C. Slavin - guitar
Steve Currie - bass
Andrew Mosely - drums

Band History (by Grant Slavin):

Negative Gain was founded in Oakville,Ontario Canada by Peter Warner who wrote all of the lyrics and provided rehearsal space in his basement. Filling out the lineup was Grant C. Slavin on guitar, Steve Currie on bass, and Andrew Mosely on drums. All members were in their mid-teens at the time. Their influences included Minor Threat, Millions of Dead Cops, the Misfits, and the Dead Kennedys, as well as fellow Canadian bands Direct Action and Sudden Impact.

Negative Gain got their first break in '83 when we were asked by local Toronto promoter Jill Heath to open for Jodie Fosters Army at the city's legendary punk club The Turning Point. After the show Pete and Grant went skateboarding with JFA. The evening was documented in a subsequent issue of Thrasher as JFA's guitarist Don Pendelton was writing a column for the rag documenting their tour. Other memorable Negative Gain gigs around this time include warming up for bands like the Circle Jerks, Gang Green, the Descendents and 7 Seconds. The young thrash band soon went from listening to their favorite bands' records on a daily basis to hanging out with them backstage and stealing their beer rider!

More help from Jill Heath came when the promoter sent Negative Gain's 1985 demo tape, Attack of the Killer Bears, to Pushead for review. Pushead evidently like the tape so much that he offered to release a full-length LP for the band. Negative Gain recorded their album in Oakville, Ontario in about five hours on a Saturday afternoon, as studio time was limited to what the young band could afford to spend on the recording. The session was produced by Brian Taylor of the Toronto band Youth Youth Youth.

Sadly, Pete Warner committed suicide not too long after the recording was completed, and never lived to see its release. His last gig with the band was with Toronto's Bunchofuckingoofs. Negative Gain continued on as a three-piece for about two more years, before splitting in the late 1980s.

Info taken from the Kill From the Heart site.