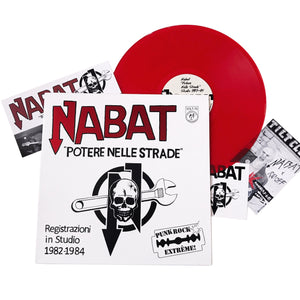 Nabat were formed in 1979 in Bologna and quickly rose to being one of Italy's most popular and beloved Oi! / Punk bands. Putting on their shows and festivals and starting their own label and self-releasing their own records and productions some amazing comps the band were gaining a following outside of Italy by the mid 80s being popular in Germany and even being known in the US before calling it quits in 1987.
This collection brings together some of their rare and highly  sought after 7" and tape tracks from their brilliant discography. You get all their recorded  tracks from 82-84 including their first tape and both of their early 7" EPs plus early comp tracks. .
This Comp LP was originally released on Vulture Rock Records in 2015 and quickly sold out and now Puke N Vomit is bringing back this must have slice of Italian Oi!/ Punk, so if you missed out the first time don't let it happen again.