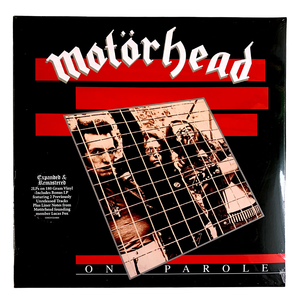 On Parole, originally recorded in 1975/1976, was intended to be Motörhead's debut album. However, things didn't quite work out that way and it was eventually released in December 1979 after the albums Overkill and Bomber came out earlier in the year.
On Parole is the only album to feature the band's original line-up of Lemmy on vocals and bass, Larry Wallis on guitar and vocals, and Lucas Fox on drums.
Motörhead On Parole (Expanded & Remastered) will be released on RSD Black Friday in the US on 2LP & CD. It will feature the original LP, plus the 1997 bonus tracks on vinyl as a bonus 12" EP.


Our take: This Black Friday Record Store Day saw a nice reissue of Motorhead's kinda-sorta first album, On Parole, and since we still have a few copies left, I thought I'd give you a quick spiel about it. In case you aren't familiar, here's the historical background. Lemmy formed Motorhead after he got kicked out of his previous band, Hawkwind, and Motorhead's original lineup was a three-piece featuring Pink Fairies guitarist Larry Wallis and drummer Lucas Fox. The group started with a set featuring songs from their previous bands along with some choice covers, and they quickly signed to United Artists Records. As the recording for their debut album was being finished, drummer Lucas Fox got edged out of the band in favor of Phil Taylor, who overdubbed new drum tracks over most of Fox's work. This is the version of the band captured on On Parole. So it's Motorhead in this weird in-between state, before they had settled on their classic lineup and their trademark sound, when there was still a lot of Hawkwind and Pink Fairies in their sound, but the band was playing this material as hard and as fast as possible. If you like bands like Hawkwind and the Pink Fairies (I love them!), you'll love this material. If you're coming to this expecting Motorhead's classic sound, though, it might disappoint you. For me, though, Motorhead's sound and aesthetic was so airtight later on (particularly on their classic three-album run of Bomber, Overkill, and Ace of Spades) that it's hard to listen to those records with fresh ears. Consequently, I'm just as likely if not more to throw on On Parole rather than those classic records, even if it is, in many respects, a formative and inferior version of the band. So, my take is that if you're a Motorhead die-hard, you'll find this material interesting for its historical context. If you're a fan of the tradition of heavy 70s rock that Motorhead grew out of, you'll just flat-out love this album for what it is. This reissue is top-notch as well, with great sound, an entire LP of bonus tracks (mostly alternate takes), informative liner notes from drummer Lucas Fox, and artwork restored from the Liberty Records pressing of the album (On Parole doesn't have a definitive album cover, and this version is the best of several not-great options).