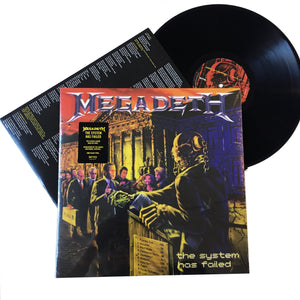 In early 2002, Dave Mustaine suffered a debilitating nerve injury to his arm (literally after sleeping on it the wrong way), bringing his career – and the nearly 20-year history of his band, Megadeth – to a crashing halt. His prospects for playing guitar again uncertain, Mustaine retreated into seclusion, effectively ending the band and leaving behind a legacy as one of metal's most important, innovative, and intelligent acts. But the story did not end there, and it seemed undeniable that the long, colorful, and dynamic history of such a relentless and groundbreaking act could be curtailed so abruptly.
In 2004, The System Has Failed, the tenth studio album released under the Megadeth banner, was issued on Sanctuary Records. Pure, unfiltered, uncompromising Megadeth, the album is a virtual compendium of everything that made and continues to make the band one of the most unique entities in the history of heavy rock. From opener "Blackmail The Universe," with its classic, chugging riff, to the politically charged, turbulent "Kick The Chair," to the painfully personal "Truth Be Told," this is a record that could only be written by one person, with one singular worldview. "Back In The Day" delves into one of Mustaine's many influences, the New Wave Of British Heavy Metal, with its galloping guitar work and frenetic tempo. Closer "My Kingdom Come," meanwhile, sounds like no other band out there. Its doom-laden, sinister beginning gives way to another vintage, crunchy Megadeth riff, before descending into a haunting, almost Eastern finale.
Lyrically, Mustain returned here with some of his sharpest political and social commentary yet, cooking up a nightmare nuclear crisis in "Blackmail The Universe," tackling criminal justice in "Kick The Chair," and painting a picture of ticking international tensions in "The Scorpion." It's Mustaine at his songwriting best, making electrifying, incisive new metal while refusing to stick to any single formula. Back on vinyl (180g LP) for the first time in 15 years newly remastered by Ted Jensen (Guns N' Roses, Mastodon, Trivium & Machine Head).