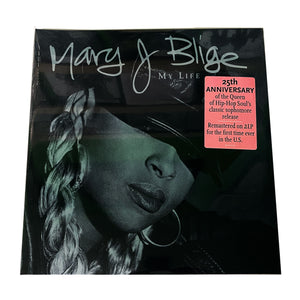 Mary J. Blige had every reason for celebrating in December 1994, as she reached the landmark of her second R&B No. 1 album with My Life. It found the soul queen following-up the record with which she'd burst onto the scene in 1992, What's The 411? That LP, which featured such trademark hits as "Reminisce," "Real Love" and "You Remind Me," went double platinum in the US, spent seven weeks at No. 1 on the R&B charts, and 64 on the chart altogether. Incredibly, My Life would match or beat all of those impressive statistics.
Blige's second album, executive produced by Sean 'Puffy' Combs, was introduced by the first single hit "Be Happy," a No. 6 R&B success that also reached No. 30 on the Billboard Hot 100. The full set followed at the end of November and went straight to No. 1 on the soul chart. Mary wouldn't achieve that feat on the pop album chart for another two and a half years, when she released her third album Share My World. What's The 411? went platinum in three months and double platinum in seven, but it was eight years before it achieved triple platinum status, in 2000.
My Life was platinum in two months, double platinum in four, and triple in just over a year. The Grammy-nominated album outstripped its predecessor with eight weeks at the top of the R&B survey and an epic 85 weeks on the chart altogether. Hit singles such as "I'm Goin' Down," "Mary Jane (All Night Long)" and others were lifted from it during 1995, as the Queen of Hip-Hop Soul's reign continued. Rolling Stone included My Life on their 50 Essential Female Albums (No. 17), 100 Greatest Albums of the '90s (No. 63) and 500 Greatest Albums of All Time (No. 279) lists.