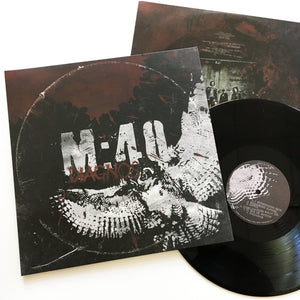 New songs from the Lidk�ping crust/hardcore unit known as M:40. The band started back in 2002 over a totally improvised recording. Their second fullength, Historiens svarta vingslag, was released as CD in 2007 on Halvfabrikat Records. Since then the world has not quite been the same.
A long time, bands such as Disfear, Tragedy and Totalt j�vla m�rker led the way of crust/punk entirely. As the summer of 2012 approaches, the tables will turn. M:40 are back with their third fullength, titled "Diagnos".
Diagnos does not only gives us the brutal side of Disfear, the raw side of Tragedy, or even the fierce side of Totalt j�vla m�rker. Diagnos also proves that crustpunk can infact be diverse; in contrary to the before mentioned.
Imagine yourself arriving at the barren no-man's land, with no way back to safety; warmth, love or affection. This is the soundtrack to that exact moment.
�
Selling points
# Crust/hardcore deriving from Lidk�ping, Sweden.
# This will be the hardest, fastest, slowest and most brutal M:40 record ever!
# A diverse punk/hardcore hybrid of Tragedy, Disfear, Skitsystem, Breach, Neurosis.
�