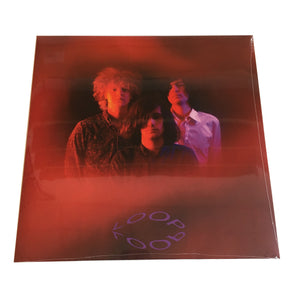 British primal psych band Loop was formed in London in 1986 by Robert Hampson on guitar and vocals and Beki Stewart (Bex) on drums. After finding bassist Glen Ray, Loop signed to Head Records, run by Jeff Barrett (Heavenly), and released the feedback-drenched 12-inch, 16 Dreams. With the arrival of James Endeacott on second guitar, drummer John Wills, and bassist Neil MacKay, Loop adopted a more primal, rhythmic approach and put out their debut full-length, 1987's Heavens End.
The band hypnotized all with their discordant, trance-like spell which served as an antidote to the prevailing trends in British pop at the time; they resurrected the concept of loud, out-there rock for a new era, creating droning soundscapes of bleak beauty and harsh dissonance loosely influenced by The Velvet Underground, The Stooges, The MC5, but retaining the avant-garde and experimental edge of Can, Faust, Neu!, Rhys Chatham, Glenn Branca, and minimalist systems music. Live shows were revelatory—Loop pushed PAs to the very limit, delivering a sonic pummel that has yet to be experienced since.
Out of print on vinyl for the last two decades, Heaven's End is finally available again in its original format. This reissue comes on the 25th anniversary of the album's release, and coincides with a repress of Loop's complete discography on CD: nine discs total on four collections, all remastered from the original analog sources and loaded with alternate mixes, demos and Peel Sessions cuts.