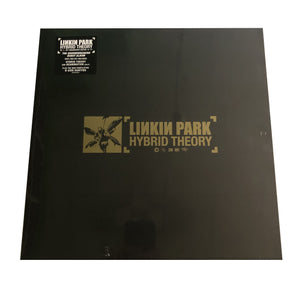 Released in October 2000, Linkin Park's groundbreaking debut album ​Hybrid Theory​ is a melting pot of heavy alternative rock, hip-hop and electronic flourishes that inspired a new genre of music and a generation of dedicated fans, who continue to be loyal followers of the band. Additionally, the band's sound influenced many young bands who related to the intense and emotional musical style. ​Hybrid Theory​ was the best-selling album of 2001 in the US and has since exceeded 11 million album sales in the US, qualifying for the rare Billboard "Diamond" award.
Hybrid Theory's​ success was supported by intensive touring, and three successful singles: "One Step Closer," "Crawling," and "In The End." The band won their first Grammy Award for "Crawling" as Best Rock Performance.
Super Deluxe Set Info: The flagship format is a super-deluxe edition box set that includes unreleased and hard-to-find material on CD, vinyl and DVD. The box set also includes a lavishly illustrated 80-page book with contributions from the band and many previously unseen photographs, plus a replica tour laminate,an oversize poster of Chester Bennington, and 3 lithographs of new artwork supplied by Mike Shinoda, Joe Hahn and Frank Maddocks (the art director on the original release, and this anniversary edition).