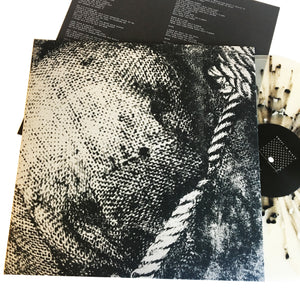 In 2016 LIFESICK released their debut LP '6.0.1' through the prestigious Southern Lord records, not just making their mark within the heavy music genre but smashing a dent that no one would soon forget. Now, having signed with Isolation Records, comes their follow up second album, 'Swept In Black'. If the first album made a dent then this one is making a crater.

These 10 songs take you on a journey through pain, anguish and suffering. While keeping a steady element of cohesion and focus throughout the album, each song still stands out from the others by providing a new way for your ears to be assaulted. They have achieved this in a number of ways which is where their musical maturity really shines through - using different time signatures, arpeggio guitar lines mixed in with full power chords, varying tempos with seamless transitions... all of this culminating in a confident next step for the band. Each song makes sure you are kept on your toes and constantly on edge for what is to come next.

Recorded by Jacob Bredahl (ex-Hatesphere) at Dead Rat Studios in Arhus, Denmark and Mastered by Brad Boatright at Audiosiege, Portland OR, you can hear this is a focused sound stemming from an abundance of knowledge - both are veterans in their own field and LIFESICK have found a winning formula in this combination. They have ensured that every nuance has been captured and showcased, blending it all into a colossal frenzy. The album has a crisp production but has still managed to maintain the fundamental power that you usually only experience at a live show.

Originally formed in Frederica, Denmark back in 2015, the 5 members pulled together their wealth of musical experience from previous bands to bring LIFESICK into existence. Inspired by life's turbulent nature, their hateful and depressive hardcore is impossible to ignore. With elements of sound that bring to mind bands such as Power Trip, Nails, Bent Life and Twitching Tongues, their seething rage is bursting out and overflowing into the ears of the listener.