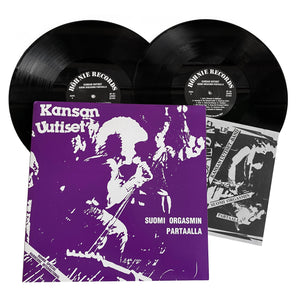 NOTE: Some jackets have damaged corners from shipping overseas.
Double LP release compiling their 1983 LP and bonus tracks.


Our take: Suomi Orgasmin Partaalla collects this classic Finnish hardcore band's 1983 Beautiful Dreams album on one disc along with demo tracks on a bonus one-sided disc. Kansan Uutiset intrigued me before I ever heard them thanks to the cool cover artwork (that mohawk!), and when I tracked their music down, it didn't disappoint. Like their Finnish contemporaries in Riistetyt and Destrucktions, Kansan Uutiset is all intensity with a blazing, minimal sound that doesn't let up (well, until the questionable Stooges cover and the surf instrumental that end the album). One thing I always liked about Kansan Uutiset is that their riffs and drumming have more of a US hardcore feel. The riffs are straightforward, with minimal but insistent drumming that makes me think of Dischord bands like SOA or Youth Brigade, albeit with a singer more in the Wattie from Exploited / "rabid barker" mode. While Kansan Uutiset doesn't offer much in the way of frills, if you like your hardcore ripping and to the point, Suomi Orgasmin Partaalla is a great pickup.