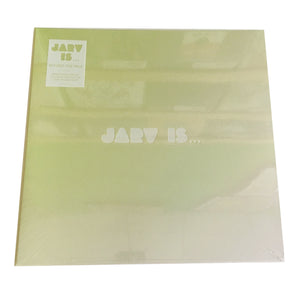 Beyond the Pale is the debut album from Jarv Is... via Rough Trade Records. This is the first original music from Jarvis Cocker since the Further Complications album in 2009. Jarv Is... a band featuring Jarvis Cocker (vocals, guitar, percussion), Serafina Steer (harp, keyboards, vocals), Emma Smith (violin, guitar vocals), Andrew McKinney (bass, vocals), Jason Buckle (synthesizer and electronic treatments) and Adam Betts (drums, percussion, vocals).

Jarv Is... formed to play a show at the Sigur Ros "Norður og Niður" festival in Iceland at the very end of 2017. Jarv Is... was conceived as a way of writing songs in collaboration with an audience. As the material they were playing was in a state of flux the band decided to record their live shows so that they could monitor how the songs were developing. After an appearance at the Desert Daze festival in California, Geoff Barrow (Portishead, Beak>) suggested that these recordings could be used as the basis for an album.

Overdubs and vocals were added at Narcissus Studios in Neasden, London. Post-production work took place at Jason Buckle's Place du Big Boss studio in Raynes Park, London.