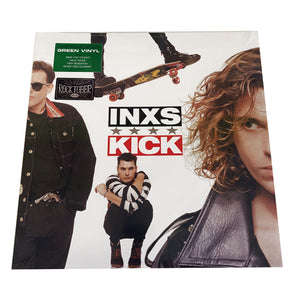 On green vinyl for Rocktober 2020.
Kick affirms its status as a jewel of '80s pop-rock. It's a showcase of the band's opulent production, slithery grooves, and the allure of Michael Hutchence's simplicity.
Thanks to Chris Thomas' sumptuous production, miraculously free of the '80s' production stereotypes that scolds like to claim are "dated," Kick fulfills the title's promise. Besides, Listen Like Thieves didn't have "Need You Tonight" and a trio of follow-up singles that kept Kick in the Top 30 for close to a year. By the time the album/tour cycle expired, INXS were one of the world's most popular concert draws, competing with U2, especially in South America (where they remain, according to conversations with my students, as beloved and canonical as U2).