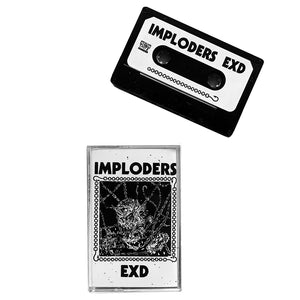 Imploders climbed out of their mom's basements and recorded this radio session for Toronto's long running Equalizing Distort Radio show.
10 live tracks on cassette including 6 new songs. This is a bit of a precursor to the 12" we'll be putting out with them in 2022. Hideously beautiful artwork by Dylan "Skulls" Bowden. Play with the Imploders puzzle box and you'll end up the same. FFO: Circle Jerks, Consumers.

Limited to 300 copies. Don't sleep.
Our take
: Toronto's Imploders caught our attention with their debut 7" on Neon Taste Records, and now they're back with this 10-song tape recorded live on the long-running
Equalizing Distort
radio show. By my count only three of the songs here appear on that 7", so there's a wealth of new material, some or all of which we can expect to be re-recorded for the band's upcoming LP. There's nothing wrong with these versions, though, as the sound is crisp and full. There's a bit of room noise so it feels "live," but I can't imagine anyone complaining about the fidelity here… these tracks sound great. Stylistically, Imploders haven't evolved much since the 7", and that's a good thing! They still rest on that line between hardcore and catchier punk, playing with the speed and precision of a hardcore band, but with the catchy tunes of a punk band. The drums here are particularly killer. It's not uncommon to see Imploders compared to the Circle Jerks, but there's some catchy-ass Lucky Lehrer shit going on here that you don't want to miss. Don't let the "live" thing scare you off… if you're a fan of bands like the Circle Jerks, the Carbonas, and Career Suicide, you're gonna want to hear
EXD
.