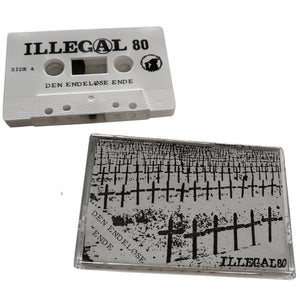 Official reissue of the ILLEGAL 80 1983 demo tape. Featuring 17 songs of unpolished Danish hc/punk.
Restored @ Ballade Studios by Mr. Lasse Ballade


Our take: Adult Crash reissues the 1983 demo tape from this obscure Danish hardcore punk band. I looked around for info about Illegal 80, but the only thing I could find was that (if my interpretation of Google translate is correct) they were from the same city as Electric Deads and released this cassette in 1983. If you love obscure old hardcore from this era, this will be a treat for you. Most of Illegal 80's music reminds me of early Finnish hardcore like Appendix or Kaaos or super fast UK82 punk like Ultra Violent. Like all of those bands, they play super fast with simple but catchy riffs and snarling vocals that, despite their nastiness, still carry a hint of melody. This tape is 30 minutes long, and while most of it falls into that ripping hardcore mold, many tracks have intros and outros that bring in elements of other styles like anarcho punk and mid-paced, Pistols-esque punk. Presumably Adult Crash's reissue replicates the original artwork (though if it's an original design it's "period appropriate"), and it looks and sounds great. Illegal 80 is the deepest of deep cuts, but if you're into this era of snarling Scandinavian hardcore, you'll love it.