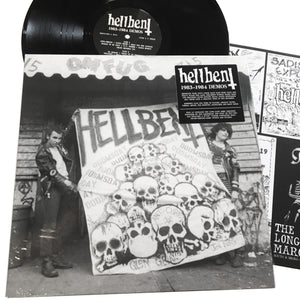 Emerging from New York City's Lower East Side in an era when loud and fast ruled the scene, Hellbent forged a unique and innovative sound mixing equal parts of ferocious Discharge-inspired hardcore with the pummeling heaviness of metal bands like Venom and Motorhead, all steeped in a heavy dose of macabre lyrics and imagery. The band existed from mid-1983 to mid-1984, and during that brief window they managed to record two sessions at Don Fury's famous Demo Demo Studios, and score opening slots on a handful of high-profile gigs with likes of Discharge,
The Exploited, and Samhain's first ever live appearance, as well as many other smaller shows around New York City. After Hellbent's breakyup, guitarist Vic Venom would go on to join Reagan Youth, and eventually form Sacrilege, who later morphed into NYC crust stalwarts Nausea. Drummer Brian Damage also did time with LA punk legends Verbal Abuse, as well as a brief stint with the Misfits,
which culminated in their legendary final performance at Detroit's Graystone Hall.

This LP collects both long-lost recording sessions in their entirety, complemented by a 12"x36" poster insert with many never-before-seen photos and flyers, as well as detailed liner notes by bassist Jon "Fury" Wiley.

Our take: Radio Raheem reissues another lost 80s HC band, and this time it's New York's Hellbent getting the treatment. It's funny, I don't recall ever hearing of Hellbent before this reissue came out, which is particularly surprising because 1. this stuff absolutely slays and 2. they played tons of legendary New York punk shows, and their name is right there on flyers that I've seen many times before… why didn't I ever think to investigate the band that played the first Samhain show along with YDI? Well, at least my oversight is rectified now. Stylistically, Hellbent are definitely on the more metallic end of hardcore. They mention Discharge, Venom, and Motorhead as inspirations, but to me they sound quite a bit like Broken Bones' early stuff, only considerably faster and meaner-sounding. As the bassist notes in this reissue's liner notes, while most straightforward hardcore bands wrote riffs by moving power chords around the neck as quickly as possible, Hellbent's songs were built around more complex and metallic licks, to the point where I could imagine them playing with a demo-era Metallica and going over extremely well. The vocalist also sounds a lot like Eric Eycke from C.O.C., which gives mid-paced songs like the swampy, Sabbath-inflected "Ballad of Ed Gein" a very Eye for an Eye type of vibe. I could do without some of the covers at the end of the record, but if you're a fan of this type of metal-infused hardcore punk—i.e. you love records by bands like Broken Bones, English Dogs, and C.O.C.—I can't recommend this one highly enough, and of course the typically beautiful and informative packaging from Radio Raheem always sweetens the deal as well.