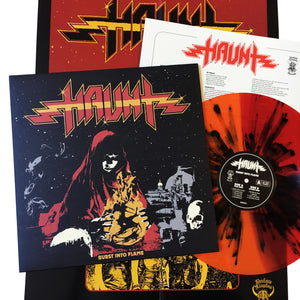 Haunt began as the work of modern renaissance man Trevor William Church. Son of Montrose/Sammy Hagar solo bassist Bill "The Electric" Church, the California native came to prominence as the vocalist/guitarist of doom-lords Beastmaker, who've released two critically acclaimed albums on Rise Above. However, as Haunt, Church went solo and created a bewitching brew of classic, turn-of-the-'80s heavy metal, drawing deeply from the momentous NWOBHM movement. He proved just how proficient and powerful his vision is with Haunt's 2017 debut EP, Luminous Eyes, which was originally self-released but then picked up for physical release by Shadow Kingdom not long after. Fans and critics all agreed, and quickly: Haunt is heavy metal heaven, and Church's brilliance has only just begun.
With Luminous Eyes as the all-too-short appetizer, along comes Haunt's hotly anticipated debut full-length, Burst Into Flame. In between releases, Church has expanded the lineup to include fellow Beastmaker guitarist John William Tucker and the rhythm section of bassist Matthew Wilhoit and drummer Daniel Wilson. Literally hot, Burst Into Flame explodes with an electricity and excitement that's simply impossible to ignore. From the hard-charging title track on down to the dramatic, climactic closer "Looking Glass," Haunt's first long-playing attack ably displays all the arsenal at their disposal. And they make great use of it across the nine anthems comprising Burst Into Flame's tighter-than-tight 38 minutes; indeed, each of the album's nine component tracks could be a "hit" in and of itself. 
Just like on Luminous Eyes, here Haunt weave luxuriously subtle hooks that take hold and entrance the listener - surely, they "haunt" - but the emotional component on Burst Into Flame is even more pronounced, portraying a moodiness that elevates all these tracks beyond mere party fodder, grabbing hold of the listener's heartstrings and never letting go. And yet, they're all deceptively invigorating at the same time, forever tethered to the timelessness of classic metal and hard rock. Or, simply, these are all great songs - and Burst Into Flame is simply a great album.