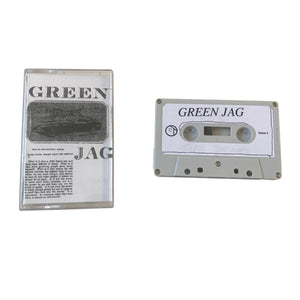 Demented rock and roll riffs channeled through the reanimated corpse of 80s midwest punk.


Our take: Green Jag is a new project from Brendan from Hologram, Aesesinato, and a bunch of other bands. I make it a point to check out everything that Brendan plays on and he's yet to disappoint me. The conceit for Green Jag is nasty, snotty punk played at hardcore tempos a la the Necros' Sex Drive EP. Like that record, the recording quality here is raw, with an idiosyncratic mix that makes the bass the most prominent instrument. While I think these tracks are ripping enough to deserve a better recording, the rawness has its charm and the songs and the attitude still shine through. I keep thinking to myself that if Brandon from No Way Records could hear this he would flip his shit. If you're a fan of snotty punk like Career Suicide and you have a high tolerance for shit-fi recordings, you'd be smart to pick this up.
Note: The original version of our description contained an error; Brendan does not play in Green Jag, the cassette is just released on his label.