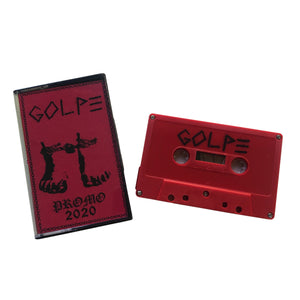 3 track promo cassette for Golpe's upcoming LP, La Colpa è Solo Tua, due on Sorry State Records in early 2020. Golpe is Tadzio Pederzolli (previously of the Italian d-beat band Komplott), who writes the songs and plays all the instruments. These three tracks are just a taste of the skull-crushing the world will receive when the LP comes out early next year. Recommended for fans of Warthog, Public Acid, and other heavy, perfectly executed hardcore punk.
Recorded and edited in Milan by Eugenio Mazzetto. Vocals recorded at Mob Sound Studios and Frizzer Studio. Mixed by Jonah Falco at Fuzzbrain Studios and by Will Killingsworth at Dead Air Studios. Mastered by Will Killingsworth at Dead Air Studios. Artwork by Francesco Goats and Tadzio Pederzolli.
Limited to 100 copies on pro-printed red cassettes.