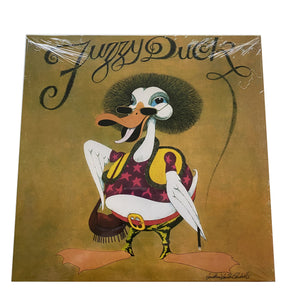 A memorable name with an outstanding cover, Fuzzy Duck is a classic slice of underground London art rock and melodic psychedelia. Originally released on MAM in 1971, it's truly a musical force of infectious riffs and fiery solos, sharp tempo changes, a tight rhythm section and heavy, Hammond-drenched grooves. With echoes of Spencer Davis Group, early Grand Funk and Vanilla Fudge, it comes on like a heavier Soft Machine or Caravan. No wonder Fuzzy Duck's cult appeal has endured.

The album features Mick Hawksworth (Five Day Week Straw People, Andromeda) on bass, acoustic 12-string, electric cello and some of the vocal duties, and also Roy "Daze" Sharland (Crazy World of Arthur Brown, Spice) on organ and electric piano. Accompanying those two were Paul Francis on drums and percussion, and Grahame White on guitars and the rest of the vocals.

Originally released in an edition of 500, Fuzzy Duck became legendary all over the world through a holy trinity of scarcity, personnel and its sheer brilliance.

The album kicks off with a heavy, bass-fuelled, Hammond rocker titled "Time Will Be Your Doctor". This is pure hard-edged blues rock, brilliantly played. Its drum break intro was sampled by DJ Premier for Gang Starr's "Mostly Tha Voice" on 1994's legendary Hard To Earn. And we can hear its personality all over Harvey and Thomas Bullock's Map Of Africa.

Rollicking highlight "Mrs. Prout" follows. At nearly 7 minutes long, it incorporates more psych-leaning guitar and drawn-out keyboards à la Ray Manzarek with the band effortlessly switching from jazzy rhythm section to a progressive one. That magnificent instrumental jam that starts half-way and continues through to the end is a true wonder.

"Just Look Around You" is propulsive folk-rock with a soaring, proto power-pop chorus, backed by frenetic organ and heavy bass high in the rich, intoxicating mix. Back comes the heavy, strung-out psych to both close out side one with "Afternoon Out" and kick off side two with "More Than I Am". Both tracks are improvisational winners that stylistically nod to the late sixties and "More Than I Am"'s guitar hook, catchy organ and memorable chorus would've surely made it a great single.

"Country Boy" quenches the thirst for rhythm and melody, only the lyrics and vibe are wonderfully creepy. The sudden cut of the groove and the drop into a more sinister tempo will make you stumble, before the band pick up speed and toss you back again into the opening jam, this time with a badass organ to ride you home. The final, fully fleshed out track is the majestic "In Our Time", which oscillates between endless organ-driven boogie and heavenly, genuinely moving vocals. Just stunning.

Infamous instrumental cut "A Word from Big D" rounds out the album. Yes, that's the band jamming with duck quack sound effects accompanying the music. "Ducking vocals" as the sleeve says. You know, just in case the whole "duck" theme had passed you by. It's an appropriate closer for what sounds like an album that must have been a lot of fun to record. It's definitely fun to listen to.

Mastered by Be With's chief sound duck Simon Francis and cut with glee by the veteran Pete Norman, this reissue of Fuzzy Duck's one-and-only LP sounds as mighty as it should. That unforgettable sleeve artwork has been carefully restored and the records pressed by the wonderful Record Industry in the Netherlands. Essential.


Our take: I first came across Fuzzy Duck a few years ago when deep diving into early hard rock and psychedelia. When you're scrolling past album after album on sites like rateyourmusic.com, Discogs, or Prog Archives, you can't help but notice that artwork… it's so gloriously WTF that you just have to hear what kind of music would fit that artwork. However, while the artwork might draw you in, it's the music that will keep you coming back. Fuzzy Duck's membership features musicians from a heap of second and third-rate psych and rock groups (Five Day Week Straw People, The Killing Floor, The Crazy World of Arthur Brown), but aside from the classic Arthur Brown track "Fire," I like this better than anything I've heard from those groups. Part of that might be where it falls in the intertwined history of freakbeat, psych, prog, and blues rock. On this album I hear freakbeat's tough, danceable rhythms, the textures of psych, the musical intricacy of prog, and the heaviness of blues rock in a balance that no one else achieved. If you like the jammed-out sounds of anything from early Cream to the Pink Fairies or Hawkwind, you should check this out. I know this isn't the normal Sorry State fare, but I can't take this one off the turntable.