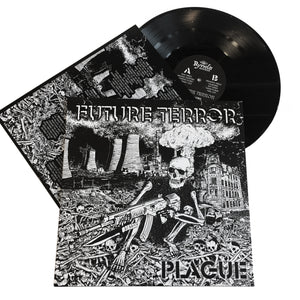 From Richmond, Virginia.
FUTURE TERRORs debut LP on Ryvvolte Records.
This album pinpoints on the fucked political climate of today , at 45rpms of the hardest crust/dbeat...hell fucking hardcore punk your record collection & ears crave.
From the moment the needle hits the record your introduced into a vicious sound of distorted crust, so loud, so angry, so relevant, and musically fucking brilliant.
For fans of : DISCLOSE, DISCHARGE, TRAGEDY, ENT, ANTI CIMEX, SKITSYSTEM:


Our take: Debut vinyl from this crust band from Richmond, Virginia. While the world has no shortage of d-beat bands at the moment, Future Terror stands out with a heavy, metallic sound that reminds me of Extreme Noise Terror or Doom. For me, the danger for metallic crust is that it gets too polished and antiseptic, but Future Terror is raw and nasty. While the recording is clear and heavy, the grimy guitar and bass sounds and throat-shredding vocals don't sound anything like "stadium crust." The raw, "yelling into a cave of despair" vocals could fit with Morbid Angel or Napalm Death as easily as any crust band, and if you loved Skemäta's vocals I'm sure you'll be on board. So much of crusty hardcore these days is about trying to be raw and primitive, so I'm stoked to see a band aim for something a little different and nail it.