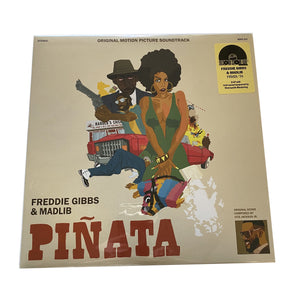 This single LP edit of Piñata has been lacquered at half speed master by Metropolis Mastering in London for the highest fidelity and is housed in a Blaxploitation-themed cover exclusively for Record Store Day 2020.
This single LP version of Piñata, the acclaimed rap album from 2014 that debuted at Number 39 on Billboard's Top 200, is presented in a unique cover for RSD 2020. The cover is a collaboration between Jeff Jank and Pathetic Pixels with inspiration found in the unique graphics and content of 1970s Blaxploitation films. Piñata is "a gangster Blaxploitation film on wax," says Gibbs, who came up on the streets of Gary, Indiana, the disregarded city previously best known for producing Michael Jackson. Here he is joined by Mac Miller, Earl Sweatshirt, Raekwon, Scarface, Domo Genesis, Ab-Soul and a host of others in setting his soliloquies of the streets alongside film snippets and dusted funk, soul and prog musical tapestries.
This version of Piñata comes on the heels of the 2019 release of the duo's acclaimed album
Bandana, named Album of the Year by Hypebeast, Rap Caviar, and many others, and is a welcome reminder of the undeniable musical chemistry that first catalyzed six years ago, elevating Freddie Gibbs and Madlib to the upper echelon of the genre's teams, and placing a classic album alongside the others Madlib issued over the years, from Madvillain's Madvillainy to Quasimoto's The Unseen.