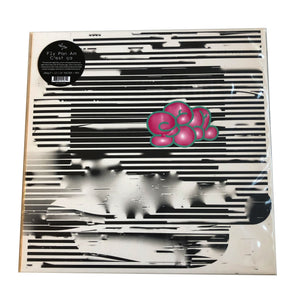 C'est ça marks the return of Montréal avant-rock quartet Fly Pan Am, who released an acclaimed series of albums in Constellation's early years, from 1999-2004. The band's unique and heady collision of motorik repetition, shoegaze maximalism, punk skronk, tape- and electronic-based interventions and audio sabotage, garnered them a cult following among fans of audaciously deconstructed post-rock.
Fly Pan Am quietly reunited in late 2017 for purely artistic reasons (needless to say), to explore making new music together after more than a decade spent in pursuit of separate sonic adventures. Within weeks, it was clear the band was firing on all cylinders again, brimming with electricity and eager to pick up where they'd left off with their last album N'écoutez pas back in 2004: pushing further into full-spectrum intersections of noise pop, post-punk, power electronics and musique concrète, while continuing to incorporate shrouded, textural vocals as alternately melodic and visceral components.
C'est ça is a brilliant return to form for Fly Pan Am – an album of renewed vitality and experimentation where rock structures underpinned by J.S. Truchy's trademark rapid-fire bass and Félix Morel's disciplined, ascetic drumming are submerged beneath waves of processed guitar by Roger Tellier-Craig and Jonathan Parant, with fluorescent noise treatments and sonic vandalisms wrought by all four. "Distance Dealer", "Each Ether" and "Interface Your Shattered Dreams" nod to important influences like MBV and Hüsker Dü, while collapsing into/out of themselves in various ways. "One Hit Wonder", "Bleeding Decay" and "Discreet Channeling" vault some of Fly Pan Am's earliest reference points into the present: namely, the intrepid proto-Kosmiche of This Heat and Can, and later style-adjacent torchbearers like Boredoms, Flying Saucer Attack and Trans Am.
But Fly Pan Am have always and reliably been much more than the sum of their influences and of their own constituent parts. C'est ca is terrific slab of restless, conceptual, psych-cosmic noise rock that could come from no other band, forged by four musicians with long histories both together and apart. Following years of sonic exploration in all sorts of other projects and guises, whether in rock/punk/pop groups like Pas Chic Chic, Feu Thérèse, Avec Le Soleil Sortant De Sa Bouche and Panopticon Eyelids (to name just a few) or through a wide range of experimental electronic and audio-art projects – including Roger Tellier Craig and J.S. Truchy each with solo releases on Root Strata, and Truchy having run the Los Discos Enfantasmes label for several years – Fly Pan Am have reconvened with all four original members and made a new record sparkling with the creative buzz of lifelong artistic intensity, dialogue and friendship.