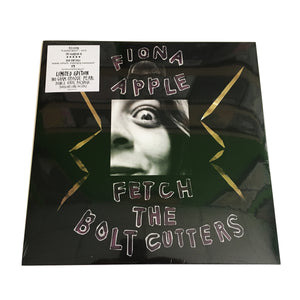 Grammy-winning singer-songwriter and alt-rock icon Fiona Apple returns with her first album in nearly eight years! Following up 2012's The Idler Wheel, the raw and percussion-heavy Fetch the Bolt Cutters has earned instant acclaim as one of the best records of the year and some of the finest work of her career.

It takes its name from a line in the British police procedural The Fall spoken by star Gillian Anderson, but Apple explains that, "Really, what it's about is not being afraid to speak." She produced the adventurous 13-track collection herself and recorded it at her Venice Beach, CA home studio with drummer Amy Aileen Wood, bassist Sebastian Steinberg, guitarist Davíd Garza and Cara Delevingne singing harmonies.

Biting yet buoyant, Fiona's elastic turns of phrase are supported by intoxicating melodic hooks throughout with visceral tracks like "I Want You to Love Me," "Shameika" and "Fetch the Bolt Cutters" serving as standouts. "Fetch the Bolt Cutters is a strange and exceptional record, even within the context of an uncommon career...whimsical and hardcore at the same time..." (The Guardian).