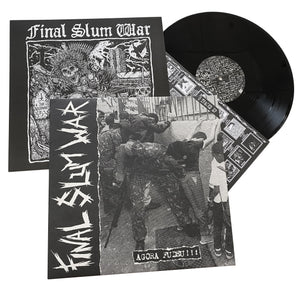 we proudly present "BURNING ANGER 002", the nightmare continues:
Barcelona-Berlin-Venezuela Ultra Raw Punk Connection. First release after years of silence. Best material they did so far after the split"12 with Besthoven, a 7inch and the demo. They (mini-)toured Europe last year with Svavekdioxid and Earth Crust Displacement, so you may know the deal here. D-Beat Raw Punk on a fast tip


Our take: This d-beat / crust band from Barcelona has been around for a decade now, but  Agora Fudeu! is their first stand-alone 12" They appeared on a split 12" with Brazil's Besthöven, and their straightforward sound resembles that band's reverent take on classic d-beat. Final Slum War sports some cool metallic riffs and a lot of stops and starts that keep things interesting, but I could see a dabbler in the genre dismissing this as generic. However, if you go way deep with this stuff, Final Slum War will get you revved up.