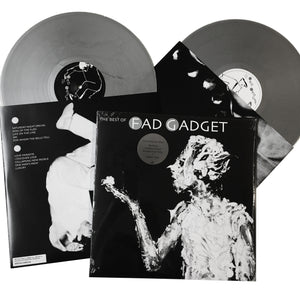 Fad Gadget was Mute's first signing and the groundbreaking debut 7", "Back To Nature" / "The Box" (Oct 1979) – recorded using a drum machine and a synthesizer – was the second release on the label. Alongside Cabaret Voltaire, The Human League, Throbbing Gristle, Soft Cell and The Normal, Frank Tovey was at the forefront of the British electronic movement of the late 70s/early 80s and his live performances, drawing on his art school background and interest in performance art, were intense, spectacular and innovative.
The original 2001 CD was the last release before the untimely early death of Frank Tovey aka Fad Gadget in 2002. The track listing, his personal selection, was designed to be both a concise retrospective of the Fad Gadget years and an introduction to his work for a new generation as he embarked on Depeche Mode's Exciter tour as their special guest.
The Best of Fad Gadget features the classic singles "Ricky's Hand," "Fireside Favourite," "Collapsing New People" and "For Whom The Bells Toll" (featuring Alison Moyet). It also includes B-sides and tracks from his celebrated albums Fireside Favourites (1980), Incontinent (1981), Under The Flag(1982), and Gag (1984) as well as "Luxury," taken from Frank Tovey's 1986 release, Snakes & Ladders.