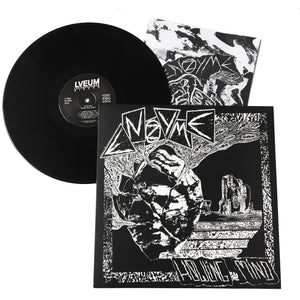 After two 7″s on Crust War and Hardcore Victim and a Tour flexi in Japan on Vox Populi Records, Australian noise-punx Enzyme release their debut 10 track debut album. The band made up of ex members of PISSCHRIST, KROMOSOM and UNKNOWN TO GOD worship at the altar of Perdition era DISORDER, CHAOS UK and CONFUSE. The bass drives the sound, the drums hectic with a lot of rolling tom tom work whilst the guitar has an immense tone of buzzing distortion and flanged psychedelics which sits somewhere between GLOOM and LES RAZILLES DENUDES. Pummeling, assertive one-two hardcore with a visceral-physical without stupidity, clever but unpretentious venomous vocals.
Recorded by Jason Fuller at Goatsound and mastered by Shige at Noise Room Howling Mind comes with sleeve and 16 page booked designed by Zach Malakonas.


Our take: After a handful of EPs here the debut 12" from this Australian band, and it's quite the face ripper. With a sound that combines the best elements of burly and crusty hardcore and Disorder-inspired noise punk, Howling Mind can get a circle pit going while the aesthetes in the back of the room stroke their chins and nod at the psychedelic guitar playing. The closest comparison for Enzyme's sound is Lebenden Toten, but on this record they seem even less indebted than LT to the classic Kyushu noise-punk sound. Rather than bubbly and melodic, the rhythm section is both agile and crushing, recalling Gauze with its power and precision. However, rather than the guitarist reinforcing those rhythms, they careen into the cosmos, doing their own thing without obscuring the rock-solid foundation. If you're into bands like Pig DNA or Lebenden Toten's more recent material I recommend checking this out.