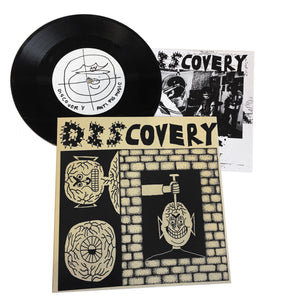 On their debut E.P. DISCOVERY, out of the bay area, bring you seven discordant cuts of raw and explosive hardcore! If you were lucky enough to remember bands like NIGHTSTICK JUSTICE, YADOKAI or RECIDE you have an idea of what to expect: fast and biting hardcore that combines a range of influences and elements from early boston and california hc to japanese hardcore.
With this E.P., DISCOVERY honed their sound even tighter and cranked up the power and intensity ten times, like your standard harcore punk band, pummeling you with a nonstop barrage of sonic insanity. Seven tracks of paranoia, isolation, ousted faith in humanity, and demented rejection interpreted by some Bay Area punks, that take you through a neck-snapping, brain-bruising car-jack of dynamic hardcore and internal rage.
Painful and pure cognitive dissonance pressed on wax swinging between blistering ragers and straight-up stompers. Drawing influence from slashing riffs, crashing open chords and a splash of bit crushed distortion for emphasis this EP is an all out burner dedicated to living at maximum intensity until your last breath, putting fear in the hearts of those who would oppress the human spirit.
Seven tracks of blazing hardcore punk influenced by Japanese hardcore punk bands with elements of early US hardcore thrown in for good measure. An ugly assault. This record is full of incredibly rough and nasty hardcore.
Thanks for existing - what a DISCOVERY! 


Our take: The band name, title of the record, and graphic design on this debut vinyl from the Bay Area's Discovery led me to expect some ear-splitting noise-punk or d-beat, but that's not the vibe here at all. Instead, this is nihilistic hardcore punk in the vein of early Poison Idea or 80s Bay Area miscreants like Sick Pleasure and the Fuck-Ups. Like the best of those bands, the playing here is tight and powerful, and while the songs stay within the standard USHC template, Discovery is talented enough to make that sound their own. There are even a few surprises like the wild, dissonant intro to "Nothing." If you're a fan of USHC that brings together catchy songwriting with a ton of fuck you attitude (i.e. if you have enjoyed recent releases by Electric Chair and Loose Nukes), this is something you should check out.