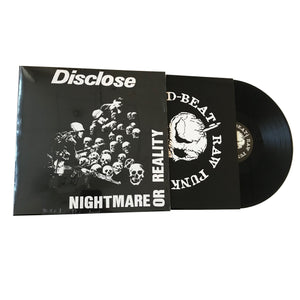 20 years ago Disclose released their response to the greatest hardcore 12" ever released: Discharge's Why. At the time the band was at the peak of their Discharge era and had perfectly crafted a trademark sound, which shows through on the recording. The chainsaw-sounding double-toned guitar, Kawakami's unmistakable vocals, and a rhythm section firmly based on the Stoke-On-Trent's beat melded together to create a repetitive mantra-like noise chant. Recorded at Grove Cargo and mastered at Studio D-Takt by Jan Jutila, the production is a perfect example of noise not music pressed into vinyl, with both high and low frequencies cutting through the mix without losing any power. Lyrically Nightmare Or Reality focuses on the tragic sights of bullshit fucking war while aurally the record is a full-blown attack on all senses. D-Beat Raw Punk at its best. 20 years on and many times imitated but never duplicated.
Originally released by MCR Company, this 20 year anniversary official reissue comes in a printed inner sleeve and heavy board outer sleeve.


Our take: I'm sure you don't need me to tell you how great Disclose is, or to convince you that La Vida Es Un Mus is doing the lord's work by bringing another of their records back into print. The cult of Disclose is strong, and for good reason. Despite being more or less ignored in their time, they've become one of the most influential bands on 2010s punk. Nightmare or Reality (like the other two LPs that LVEUM has reissued) is a highlight of the band's discography, coming at the tail end of what most people would consider their classic era. While Disclose had been releasing music since the early 90s, their final several years (1999 or so to 2004) were productive. Not only were releases coming out steadily, the band seemed to experience a burst of creative energy, experimenting and exploring their sound without losing their essential voice. Once again, kudos to LVEUM for keeping this material in print in an edition true to Kawakami's original vision.