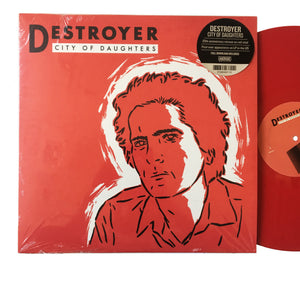 In the hallowed 
Destroyer
 discography, the early trinity of 
City Of Daughters
, 
Thief
 and 
Streethawk: A Seduction
holds an important place; for not only does it document 
Dan Bejar's
 evolution from lo-fi bedroom tyro to bona fide master of the rock album, it also contains a massive percentage of superlative 
Destroyer

 
"classics." 1998's 
City of Daughters
 features some of the first steps out of the demo-tapey experimentation of earlier recordings, with songs like "Comments On The World As Will" refining the sound of that stripped-down earlier work, and the seminal "No Cease Fires" offering us the first taste of just what a full-band
 

Destroyer

 
might conjure. 2018 marks the 
20th anniversary

 
of 
City of Daughters
, 
Destroyer's
 second full length album and this 
colored vinyl pressing
 serves as its first in the US!