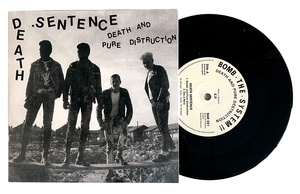 Licensed by Cherry Red Music! Official repress of this classic from 1982. Limited to 500 copies!

Originally released by Beat The System !!/Lightbeat Records.

This EP is as good as Death Sentence were short-lived. Basically, and I say this in a non-hyperbolic fashion for once, "Death and pure distruction" is one of the very best record of the UK82 genre.

"Death and pure distruction" was released by a label called "Beat the system!!" whose field of expertise was punk-rock from Northern England (The Fits, Antisocial, Uproar, One Way System).

Death Sentence was certainly a band of its time as the looks of the boys suggest with their boots, studded jackets and spiky hair. The four songs on this Ep epitomize everything I love about that genre. It is fast and basic, it is sloppy, it is snottier than a six-year old on a rainy day, it is pissed, spontaneous and distorted.

The shouted vocals are really at the front of the music and have this juvenile feel with a distinct English accent. The drummer must have been heavily into Chaos UK's "Burning Britain" and Disorder's "Complete disorder" as you can spot the particular drum rolls so cherished by the Bristolians (and keep in mind that this was only 1982).

The guitar is effortlessly distorted, the bass sound is buzzing, and while the band's influences are pretty obvious, this is done in such a fresh, direct manner that it can't really fail.

The band was one of the few multi-racial punk bands of the UK82 wave as there were two black kids in the band. Not only that, but these two boys were also twin brothers.


Our take: The German label Bomb-All Records brings this underrated UK82 ripper back into print. There isn't much in the way of frills for Death Sentence… their riffs are of the simple 3 chord variety, their drummer only knows how to do dunka dunka 1-2 beats, and the singer sounds like he's auditioning for the Exploited. The two tracks on the a-side are rippers, lightning-fast UK82 punk in the vein of Ultra Violent or the better Exploited songs. The b-side slows things down for "Victims of War" and the record finishes with "Death Sentence," whose endearingly sloppy playing and screaming guitar solo leave a strong impression. While it isn't on the level of Ultra Violent or the Partisans, Death and Pure Destruction is a ripper that any fan of this style will love.