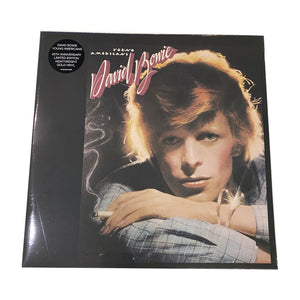 1975's Young Americans spent almost a year on the U.S. charts, peaking at No. 9 on Billboard's Albums chart, while its single "Fame" hit No. 1 on the Pop Singles chart. Bowie's Diamond Dogs had cracked the U.S. Top 5 the previous year, so while Young Americans was not the album that initially broke Bowie in America, it was certainly the one that aligned him with Rod Stewart and Elton John in the top ranks of the decade's Stateside superstars.

Young Americans, representing the zenith of Bowie's influential soul period, contributed in no small measure to breaking white soul music into the mainstream. The album was, in theory, about "emotional drive," but came to represent much more than that, both upon its release and over time. Young Americans is Bowie's vision of and reply to a wide swath of above-board and underground musical and socio-political influences, including soul music, politics, sex, drugs, dancing, and the cultural scenes of downtown New York and uptown Philadelphia.

A No. 2 U.K. chart peak made it Bowie's first studio album in three years not to reach the top spot. Nonetheless, the album's legacy would be profound, as a new movement of U.K. soul drew inspiration from Bowie's cool version of Americana and revolutionized British pop in the process. Bowie's soul boy look and haircut, later to be known as 'the wedge,' became the hallmarks of classic clubland cool, not just for the soul boys themselves but across the greater New Romantic era, as well.

It is not often that an album makes such a sweeping musical, cultural and subcultural impact. David Bowie's Young Americans is one of the rare, era-defining records that altered the course of both popular music and modern style.